Richard Designs RDM1119 (variety of colours)
£270.00
ALL RICHARD DESIGN DRESSES ARE AVAILABLE IN ADULT (UK 4-32) AND TEEN/JUNIOR BRIDESMAID SIZES (8-16). See charts below.
MATCHING COLOUR HAIR ACCESSORIES ALSO AVAILABLE ON REQUEST.
A beautiful traditional bridesmaid gown, with a ruched bodice and deep V-neck. Cinched in at the waist with a dainty sparkly silver crystal belt, finished with a flowy skirt. Shown in Rose and Royal Blue. Available in any chiffon colour.

***PLEASE CONTACT US FIRST FOR A PRICE AND DELIVERY DATE***
COLOUR CHART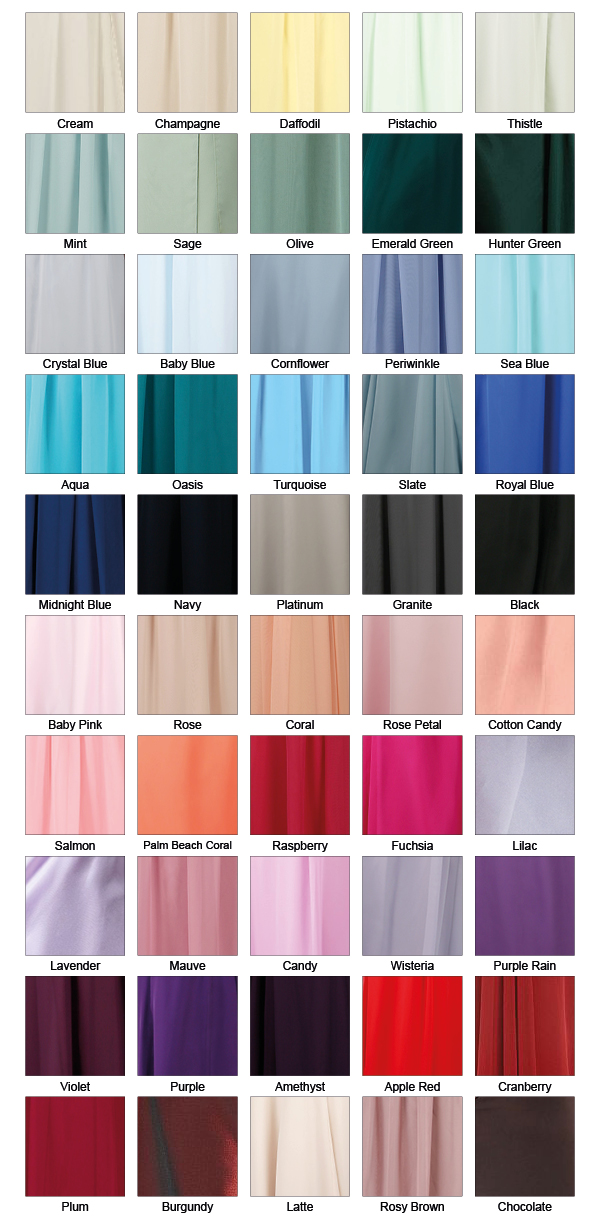 SIZE CHART
ADULT
All measurements are in inches
| | | | | | | |
| --- | --- | --- | --- | --- | --- | --- |
| UK Size | US Size | Bust | Waist | Hip | Hollow to Hem | Bicep (arm) |
| 4 | 0 | 32.5 | 24.5 | 35.5 | 60 | 12 |
| 6 | 2 | 33.5 | 25.5 | 36.5 | 60 | 12 |
| 8 | 4 | 34.5 | 26.5 | 37.5 | 60 | 12 |
| 10 | 6 | 36 | 28 | 39 | 60 | 12.5 |
| 12 | 8 | 37.5 | 29.5 | 40.5 | 60 | 12.5 |
| 14 | 10 | 39 | 31 | 42 | 60 | 13 |
| 16 | 12 | 41 | 33 | 44 | 60 | 13.5 |
| 18 | 14 | 43 | 35 | 46 | 60 | 14 |
| 20 | 16 | 45 | 37 | 48 | 60 | 15 |
| 22 | 18 | 48 | 40 | 51 | 60 | 15 |
| 24 | 20 | 51 | 43 | 54 | 60 | 16 |
| 26 | 22 | 54 | 46 | 57 | 60 | 16 |
| 28 | 24 | 57 | 49 | 60 | 60 | 17 |
| 30 | 26 | 60 | 52 | 63 | 60 | 17 |
| 32 | 28 | 63 | 55 | 66 | 60 | 18 |
TEEN BRIDESMAID GOWNS
All measurements are in inches
| | | | | |
| --- | --- | --- | --- | --- |
| Size | Bust | Waist | Hip | Hollow to Hem |
| 8 | 28 | 24 | 32 | 47.5 |
| 10 | 29.5 | 25 | 33 | 49.5 |
| 12 | 31 | 26 | 34 | 51.5 |
| 14 | 32.5 | 27 | 35 | 53.5 |
| 16 | 34 | 28 | 36 | 55.5 |

Teen sizes are available for all bridesmaid styles. Please add 'T' to the end of the product code, e.g. RDM1091T